I don't care, I love Alan Cumming
He's like the human version of Acklecorn!
http://www.pajiba.com/seriously_random_lists/the-10-crappiest-movies-of-alan-cummings-career.php
Cindy Lauper, Liza Minnelli,  Julie Andrews, Alan Rickman and Ian McKellen. I'm in Heaven!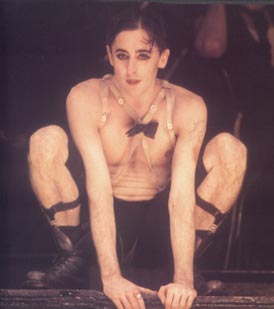 Alan Cumming Says Barack Obama Has a Big Wang
Surrounded by huge projections of scantily clad supermodels from photographer Russell James's new book, partygoers at Donna Karan's Urban Zen space couldn't help but fantasize about who else they'd like to see naked. "I'd like to see Obama naked," Alan Cumming mused. But get your mind out of the gutter; the actor is curious simply from a scientific standpoint, to prove a theory.
"I think great leaders, charismatic leaders and men who are so confident and who have achieved so much, usually have big penises," Cumming told us. "I think there's a correlation between the level of confidence, the level of the way a man can hold a room and the way he conducts himself in life, with his penis size — with his comfort with his penis size."
Cumming developed this theory, he says, through extensive research. "So much of male psyche is taken up with how big your cock is; it's a huge deal in our lives, and so when you're confident about your penis size, it shows."
And his highly trained eye says Obama is hung. "Well, just look at him," Professor Cumming explained. "Just the way he's so kind of elegant and very confident in his body and himself."
"Also," Alan added as an afterthought, "someone told me that they worked out with him in a gym in Chicago, and it was big."
http://nymag.com/daily/intel/2009/01/alan_cumming_says_barack_obama.html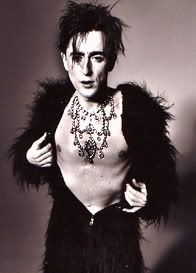 A man after my own heart! No olives, and drink lots of water cuz it's not a drink for pussies!
Cumming out on top
(I recommend reading the whole article)
Cumming is wearing enormous glasses with thick black plastic frames. Since I last saw him, he has had most of his hair shaved off. And he has grown a substantial, Swedish-porno-style moustache. There is a touch of Groucho Marx about the whole get-up, I suggest. 'I thought it was more like Harry Potter, porn star,' he says. 'I could be the porn version of Harry Potter, with his specs and my moustache.'
'I am the acceptable face of sexual ambiguity,' he says. 'I'm like a naughty schoolboy – I can get away with stuff, say stuff that's controversial. I giggle a lot and I'm foreign – which is a big thing. I've done lots of heavyweight classy things. And I can dip my finger in trash quite easily.'
Have you ever had sex in a disabled toilet? 'I have,' he says, slightly sheepishly. 'Yeah.'
He has asked his mother not to read the book. To begin with, she thought it was because he'd written about the family. He had to explain that it wasn't that. It was just the sex and drugs: the rimming and the K-holes. 'I said, "I don't want to be the person to have given you certain visuals that you'll get from this book,"' he says. 'I'd be happier that my mum didn't know about certain things. She'd be shocked. You understand.'
Him: I thought of this thing the other day, because I was thinking of all these questions I was going to be asked. I like challenging people about their views on sexuality and their preconceptions about people. Their prejudices, I suppose. And so I've thought of this thing which is: every man in the world is really into his cock. Right? You know? It's true, isn't it?
Me: [Hesitant. Mildly concerned about where this might be going] Right.
Him: So… it's not such a big leap to think that he might be into somebody else's.
Me: [With no conviction whatsoever] Riiight… what do you plan to do with this piece of information?
Him: Say it. On a talk show or something. I might replace the word 'cock' with 'penis'. D'you know what I mean? This stuff… I don't know why I said that – I was just thinking about it. I do get asked about those things such a lot. You just think, Oh come on, get over it – who cares? But when you start to be a spokesperson for… deviants… it's hilarious. It's quite a good quote that, isn't it? It's true, isn't it? You're into your cock, aren't you?
Him: I know. But I'm challenging the perceived notions of these dirty homosexuals who are into each other's cocks. I know there's a big leap. That's the point.
http://www.guardian.co.uk/books/2003/feb/16/fiction.film